Useful Information
Oktoberfest Stockholm will be held at Gärdet, Lindarängsvägen, Stockholm in a 2.350 m2 big tent. German food and drinks are for sale.
Are you a group and want to reserve a seat, please send us an email, you are sure to sit together. If you have not booked one of our offer, come early to secure a place for you. We recommend that you arrive by public transport because after a nice cold beer your car can not be used anymore.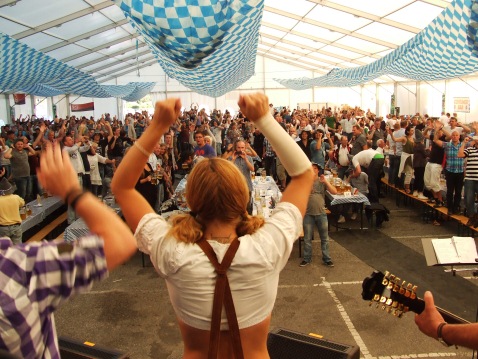 Companies
Have your summer party or office party with us, it will be an unforgettable celebration and certain to get all your colleagues up on the benches – it's just fun!
Important
Seats must be occupied before 18:30 Thursday/Friday and 18:00 Saturday. If you wish to arrive later book VIP seats, they must be occupied before 20:00
Wardrobe:
It only costs kr. 40 so it is really recommended. Do not bring valuables to the tent as we can not guarantee anything with so many people.
Rental of Lederhosen and Dirndl:
Want to be dressed in traditional Oktoberfest clothes for the evening we have original Dirndl or Lederhosen to rent for only kr. 400. It is an experience you will never forget – real clothes from Munich. We have sizes 34,36,38,40,42,44, 46 and 50 in Dirndl and 44,46,48,50,52,54,56,58,60 and 62 in Lederhosen (usually you need a size smaller than your normal pants). You need to pay hire 400 an additional kr. 350 for lederhose/ kr. 50 for Dirndl deposit which of course you get back when you hand the clothes in. The clothes rented in our shop and your own clothes can be kept in our wardrobe for free. If you decide to keep it the cloth is paid this way.
Booking:
You can book a seat directly online. You order the place where you want to sit and we fill up the front. See more under "Tickets"
Alcohol-free alternatives – liters of cola / other soft drink or a bottle of non-alcoholic red / white wine to drink.
Vegetarian option:
We have a delicious dish on the menu with cheese, vegetables and potatoes. You can exchange your food ticket here, just tell your servant you want the vegetarian option.